This juice from The Decadent Detox 3-Day Winter Juice Fast is like a tropical mocktail, yet packs a powerful punch. Pineapple contains the enzyme bromelain, and along with mint, clears mucous in the respiratory tract. Minerals in pineapple also aid digestion and combat inflammation. Cucumber and lemon hydrate, cleanse, and amp up the alkaline agenda. Mint adds awesome flavor and acts as an antiseptic.
Ingredient Cleansing Benefits:
Pineapple – Containing a powerhouse of valuable enzymes, particularly bromelain, which helps break down protein, and ease coughs and loosen mucus, pineapple juice can be more effective than cough syrup for a sore throat. Bromelain is also great for reducing inflammation from arthritis, injuries, laryngitis, and sinusitis, in addition to treating and preventing cardiovascular diseases, including angina and atherosclerosis. Pineapple also provides potassium, chlorine, sodium, phosphorus, magnesium, sulfur, calcium, iron and iodine along with vitamins A, B complex and C.
This cooling fruit is included in several seasons' juices for it's amazing anti-inflammatory properties and its power as a digestive and cleansing aid. A sweet tropical treat, pineapple is high in natural sugar, and we recommend combining it with low-sugar fruits and vegetables to balance the glycemic index and avoid sugar spikes. The flavor and texture of pineapple combine especially well with citrus, cinnamon, ginger and mint, and its tang and aroma are brilliant for masking the pungent qualities of leafy greens and the earthiness of beets. The whole pineapple—shorn of the spiny leaves—can be juiced, skin and all. Just cut it up and feed it through the machine.
Cucumber – This vege-fruit truly is the ultimate cool-hydrate-cleanse food. It's right in there regulating body temperature and easing inflammation. A relative of squashes and melons, the cuke is a natural diuretic (due to that abundant water), aiding in cell hydration, waste removal, and dissolving kidney stones. Cucumber's high silica content is great for the skin, and helps alleviate eczema, psoriasis, hair loss, and strengthen nails. The silica in cucumber also reduces the concentration of uric acid, which causes inflammation in the joints, muscles and tendons. A natural blood-pressure regulator, cucumber is high in vitamin A (mostly in the peel), B complex, C and folic acid, amino acids (methionine and tryptophan), potassium, sulfur, and natural chlorine. To take advantage of the nutrients in the skins, we always use the less-bitter-skinned English/Dutch variety. Any cucumber, though, goes well in our recipes.
We add cucumber to many juice blends as a way of adding mineral-rich water that's way more beneficial than the plain filtered stuff. Cucumber juice is chock-full of nutrients, yet barely alters flavor. Cucumbers are intensely alkalizing, and a half (or whole) cucumber worked into a batch of juice offsets the acidic effects of high-sugar fruits and aids detox. Cucumber is our go-to base for sugar-free, alkaline juice blends, too. Make sure your cucumber is organic and hasn't been embalmed in a coating of wax.
Lemon – This alkalizing tart tamer is a potent detoxifier and natural antibiotic that improves liver function, relieves constipation, and can help dissolve kidney and gall stones. High levels of vitamin C help boost immunity and alleviate symptoms of osteoarthritis and rheumatoid arthritis, as well as combat heart disease. Lemons provide calcium and magnesium for strong bones and teeth, along with unique compounds that have powerful antioxidant properties. The flavonoids in lemons have even been shown to halt abnormal cell division.
While lemons are cooling, this superstar can be balanced with warming foods like cayenne and fennel. We use lemons in lots of juice blends to lift the earthy and pungent quality of leafy greens and vegetables, add zip and tang, and balance the acidifying impacts of high-sugar fruits. You may want to remove the rinds of these fruits before juicing, as in substantial quantities they're slightly toxic, or you may enjoy the zesty punch it adds—a good compromise is a bit of the peel along with the flesh.
Mint – Delivering potassium, calcium, iron, manganese and magnesium, beta-carotine, and vitamins A, C, E and K, mint also contain B-complex, including folates, riboflavin and pyridoxine (B6). One of the oldest remedies in use for indigestion and flatulence, mint can help bring down cholesterol and high blood pressure. It's a natural topical anesthetic for the mouth. Through the action of menthol on cold receptors in our skin and mucous membranes, the herb delivers a cool sensation when eaten, inhaled or applied. Compounds in peppermint, specifically, relax the intestinal wall and sphincter muscles, and work as an anti-spasmodic agent in the treatment of irritable bowel syndrome (IBS) and other colic pain disorders. With these additional properties, peppermint is a great cleanse go-to.
Though a cooling herb, mint brings a bright, warm accent to cold weather juices, and offers a clean flavor that's especially pleasant during a detox. That flavor pairs especially well with mild leafy greens, apple, melon, lemon, and pineapple. Juice the entire stalk, stem and leaves.
Recipe from The Decadent Detox 3-Day Winter Juice Fast.
Get Healthy In 3 Easy Steps:
1. DOWNLOAD our FREE 5 Steps To Better Health.
2. START our 3-Day Winter Juice Fast.
3. JOIN our Cleanse Facebook group to get support from us.
THE BLENDAHOLIC SHOW TRAILER

THE BLENDAHOLIC SHOW TRAILER: Hi, my name is Tess and I'm a Blendaholic. Every Monday I share super easy recipes you can make in your blender! I'm blending up smoothies, cocktails, soups, appetizers, snacks, main meals, and desserts. There isn't anything I won't try in a blender, and all of the recipes are mind-blowingly delicious. So, dust off your blender, and tune in to The Blendaholic every Monday at 7AM PST to find your perfect blend. Find more easy healthy recipes at The Blender Girlhttps://www.theblendergirl.com/

Posted by The Blendaholic on Monday, January 22, 2018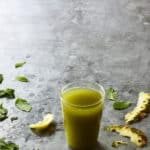 Mint Lemon Pineapple Juice
This pineapple, cucumber, lemon, and mint juice from The Blender Girl 3-Day Winter Juice Fast tastes like a tropical mocktail.
Servings
1
16-ounce glass
Ingredients
1/4

large pineapple,

skin removed

1/2

English cucumber

1 

lemon,

rind removed

1/3

cup

mint leaves,

plus more to taste 

Pinch

of Celtic sea salt
Instructions
Push everything through your juicer.