Lime Basil Watermelon Juice
---
July 12, 2013
This lime basil watermelon juice with the rind from The Decadent Detox 3-Day Summer Juice Fast cools, hydrates, and cleanses, and is incredibly delicious.
This lime basil watermelon juice with the rind from The Decadent Detox 3-Day Summer Juice Fast cools and hydrates the body. The watermelon rind has wonderful skin supporting properties too, so don't leave it out. Lime helps break down toxins and is loaded with Vitamin C, and basil adds cleansing chlorophyll, amps up the anti-bacterial and anti-inflammatory agenda, and adds crazy-amazing flavor. This juice tastes like a refreshing mocktail anytime, and is so delicious, you'll forget you're cleansing.
Ingredient Cleansing Benefits:
Watermelon – At 92% water, this tasty melon is loaded with electrolytes making it a go-to for skin health, kidney detox and general wellness. Watermelons also contain significant vitamin B6 for brain power, good levels of vitamin A and potassium, and 40% more lycopene than tomatoes. Watermelon also boosts immunity with vitamins B1 and C, and manganese, all of which protect against infections. It is also an anti-inflammatory ace and powerful cooling food.
All parts of the watermelon can be eaten and juiced, even the rind, which contains a number of nutrients, such as citrulline. Watermelon yields a tremendous amount of juice, and we push it through the juicer rind and all to reap the full rewards. Mildly sweet watermelon juices well with cucumber, lime, lemon, berries, and fresh herbs like mint and basil.
Lime – This alkalizing tart tamer is a potent detoxifier and natural antibiotic that improves liver function, relieves constipation, and can help dissolve kidney and gall stones. High levels of vitamin C help boost immunity and alleviate symptoms of osteoarthritis and rheumatoid arthritis, as well as combat heart disease. Limes provide calcium and magnesium for strong bones and teeth, along with unique compounds that have powerful antioxidant properties. The flavonoids in limes have even been shown to halt abnormal cell division.
While limes are cooling, this superstar can be balanced with warming foods like cayenne and fennel. We use limes in lots of juice blends to lift the earthy and pungent quality of leafy greens and vegetables, add zip and tang, and balance the acidifying impacts of high-sugar fruits. You may want to remove the rinds of these fruits before juicing, as in substantial quantities they're slightly toxic, or you may enjoy the zesty punch it adds—a good compromise is a bit of the peel along with the flesh.
Basil – With potent antioxidant and antibacterial properties, this magical herb offers powerful medicinal mojo along with incredible flavor. Fresh basil delivers a healthy dose of vitamin A, blood-clotting vitamin K, manganese, and magnesium. Particularly beneficial for easing inflammation, it helps out with rheumatoid arthritis and bowel conditions. Basil pairs well with watermelon, honeydew melon, strawberries, raspberries, and of course, tomato. A little basil juice goes a long way, so start small, and add to taste.
Recipe from The Decadent Detox 3-Day Summer Juice Fast.
Get Healthy In 3 Easy Steps:
1. DOWNLOAD our FREE 5 Steps To Better Health.
2. START our 3-Day Summer Juice Fast.
3. JOIN our Cleanse Facebook group to get support from us.
THE BLENDAHOLIC SHOW TRAILER

THE BLENDAHOLIC SHOW TRAILER: Hi, my name is Tess and I'm a Blendaholic. Every Monday I share super easy recipes you can make in your blender! I'm blending up smoothies, cocktails, soups, appetizers, snacks, main meals, and desserts. There isn't anything I won't try in a blender, and all of the recipes are mind-blowingly delicious. So, dust off your blender, and tune in to The Blendaholic every Monday at 7AM PST to find your perfect blend. Find more easy healthy recipes at The Blender Girlhttps://www.theblendergirl.com/

Posted by The Blendaholic on Monday, January 22, 2018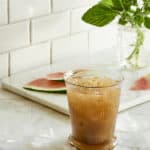 Lime Basil Watermelon Juice
This lime basil watermelon juice with the rind from The Decadent Detox 3-Day Summer Juice Fast cools, hydrates, and cleanses, and is incredibly delicious.

Servings
1
16-ounce glass
Ingredients
1/4

small watermelon

(including the rind)

1

lime,

 rind removed

2

handfuls

fresh basil or mint

(leaves and stems)

Pinch

of Celtic sea salt
Instructions
Push everything through your juicer.