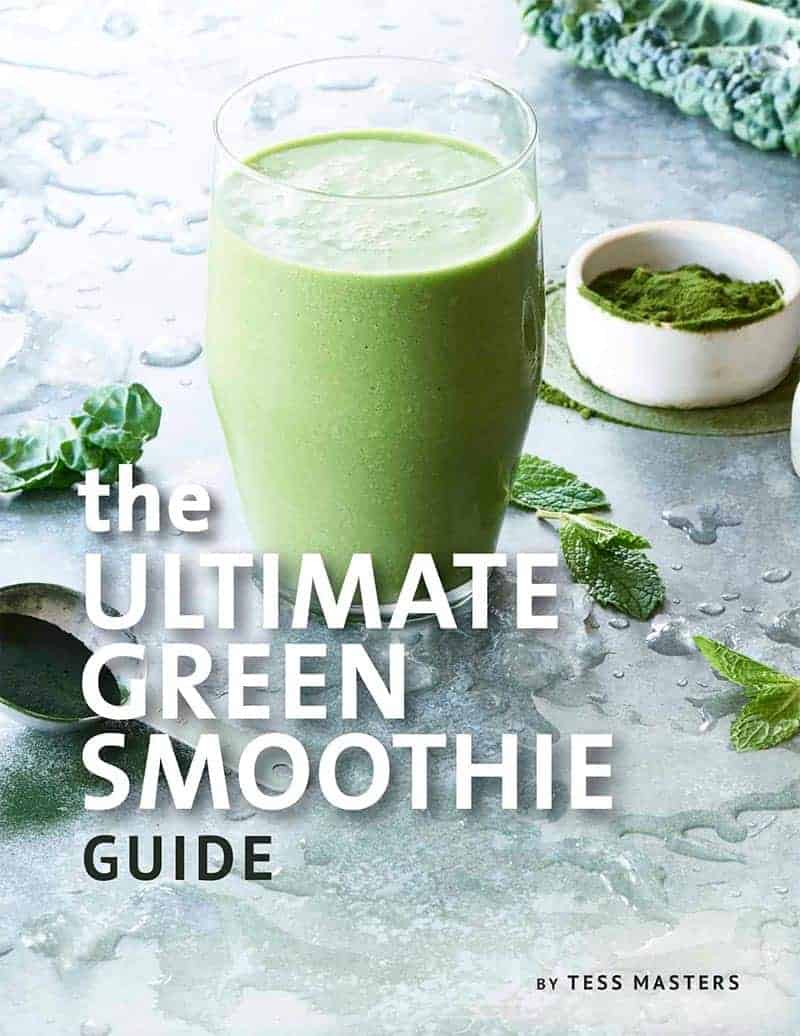 ---
THE ULTIMATE GREEN SMOOTHIE GUIDE
How to make a green smoothie that tastes amazing.
New to green smoothies and need help?
Making green smoothies that taste disgusting?
Tired of the same green smoothies and need new ideas?
Searching for healthy green smoothie recipes?
Wanting to create delicious green smoothie recipes?
---
I WANT THE FREE TIPS
---
MAKE THE BEST GREEN SMOOTHIE
One of the best things we can do to stay healthy is to drink nutrient-dense green smoothies.
Leafy greens are pretty perfect foods. They are loaded with nutrients that help keep the body in balance.
But, unless you have the schedule of a panda, nobody has time to chomp on leaves all day long.
One of the quickest and easiest ways to pack a ton of leafy greens into your diet is in a green smoothie.
But, throwing greens into your blender with reckless abandon and hoping for the best can result in a smoothie that looks and tastes like a big old glass of death that is not much fun to drink.
Thousands of people have emailed me with tales of their undrinkable "I-know-it's-healthy-but-it-looks-and-tastes-gross" concoctions.
Life is too short to eat bad food no matter how healthy it is.
And I'm guessing you don't want to drink a gag-worthy brown smoothie with a mealy or sludgy texture that looks and tastes like the swamp water where the plants came to die!
Experimenting with thousands of combinations, I've developed a set of strategies for healthy, creamy, or frosty green smoothies that look gorgeous, taste amazing, and are packed with nutrition.
So, here it is:
THE ULTIMATE GREEN SMOOTHIE GUIDE
This easy guide will help you use:
leafy greens

fruits

vegetables

herbs

spices

oils

superfoods
in your smoothies like a pro!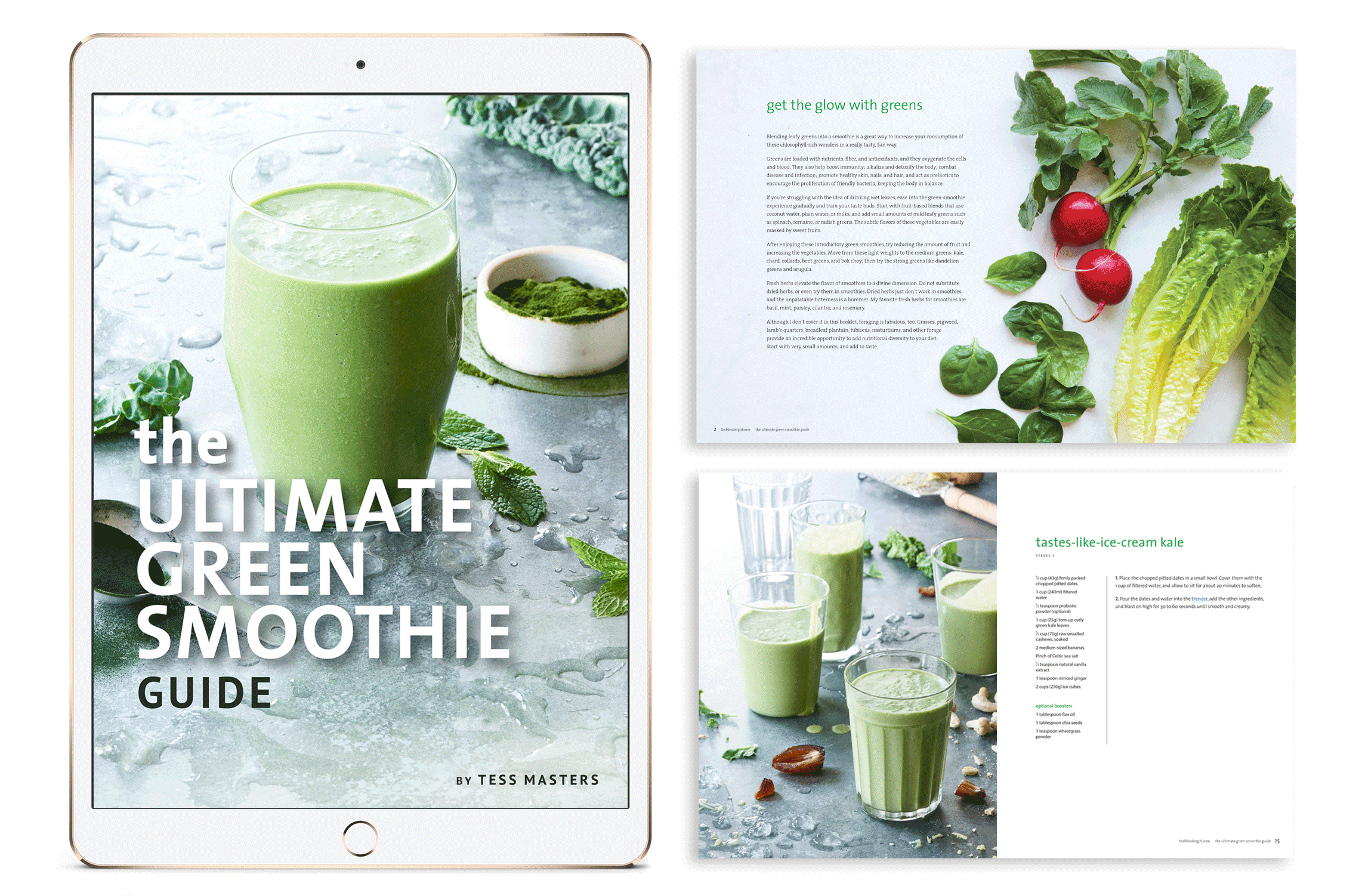 I WANT TO MAKE AMAZING GREEN SMOOTHIES
WHAT IS INCLUDED?
A Guide for Leafy Greens
Mild:
Spinach
Romaine
Radish Greens
Medium
Kale
Chard
Collard Greens
Beet Greens
Bok Choy
Strong
Herbs
Basil
Cilantro
Mint
Parsley
Rosemary
The lowdown on the health benefits of each leafy green, how much to use in a smoothie, and what flavors to pair with them for amazing blends.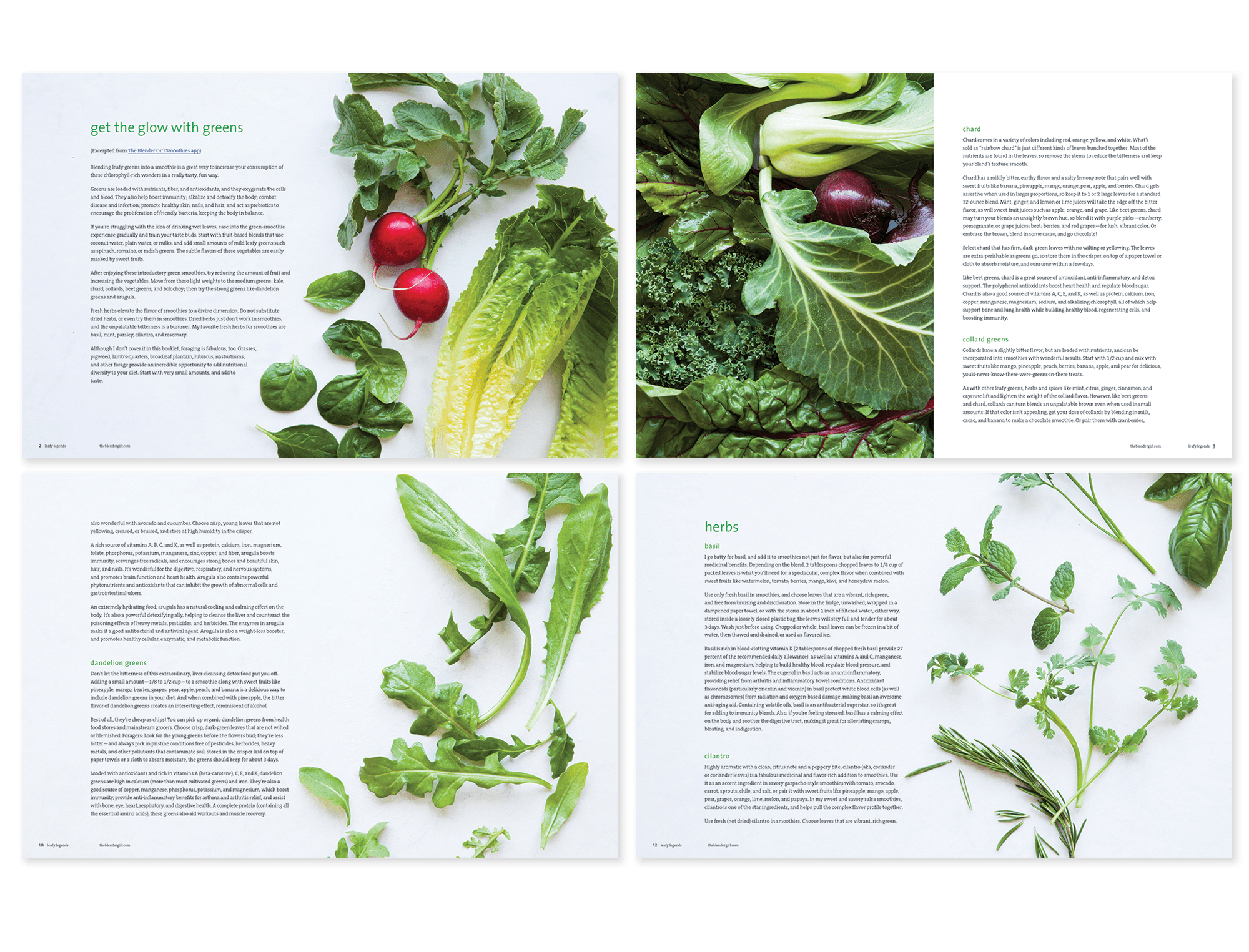 HAND CHEAT CHEATS
Infographics to help you!
A Guide for Greens in Smoothies
A Guide for Herbs in Smoothies
A Guide for Spices in Smoothies
A Guide for Superfoods in Smoothies
A Guide for Oils in Smoothies
Print them up or keep them on your device.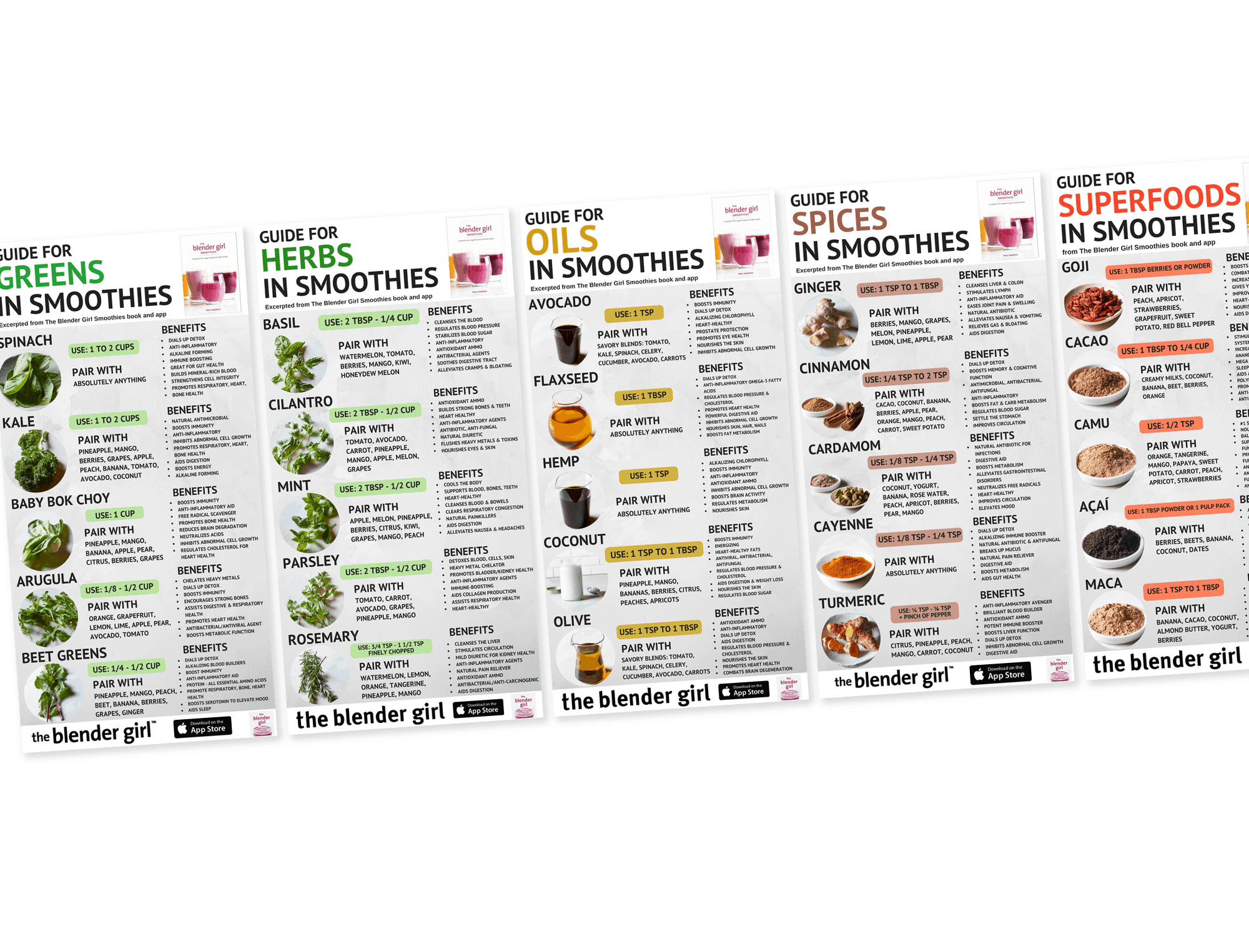 AMAZING SMOOTHIE RECIPES
Some of the most popular recipes from The Blender Girl Smoothies app to help get you started.
Tastes-Like-Ice-Cream Kale smoothie
Grape Parsley Lemonade smoothie
Chard Black and Blue smoothie
Spicy Tomato Gazpacho smoothie
Wild Mango Coconut smoothie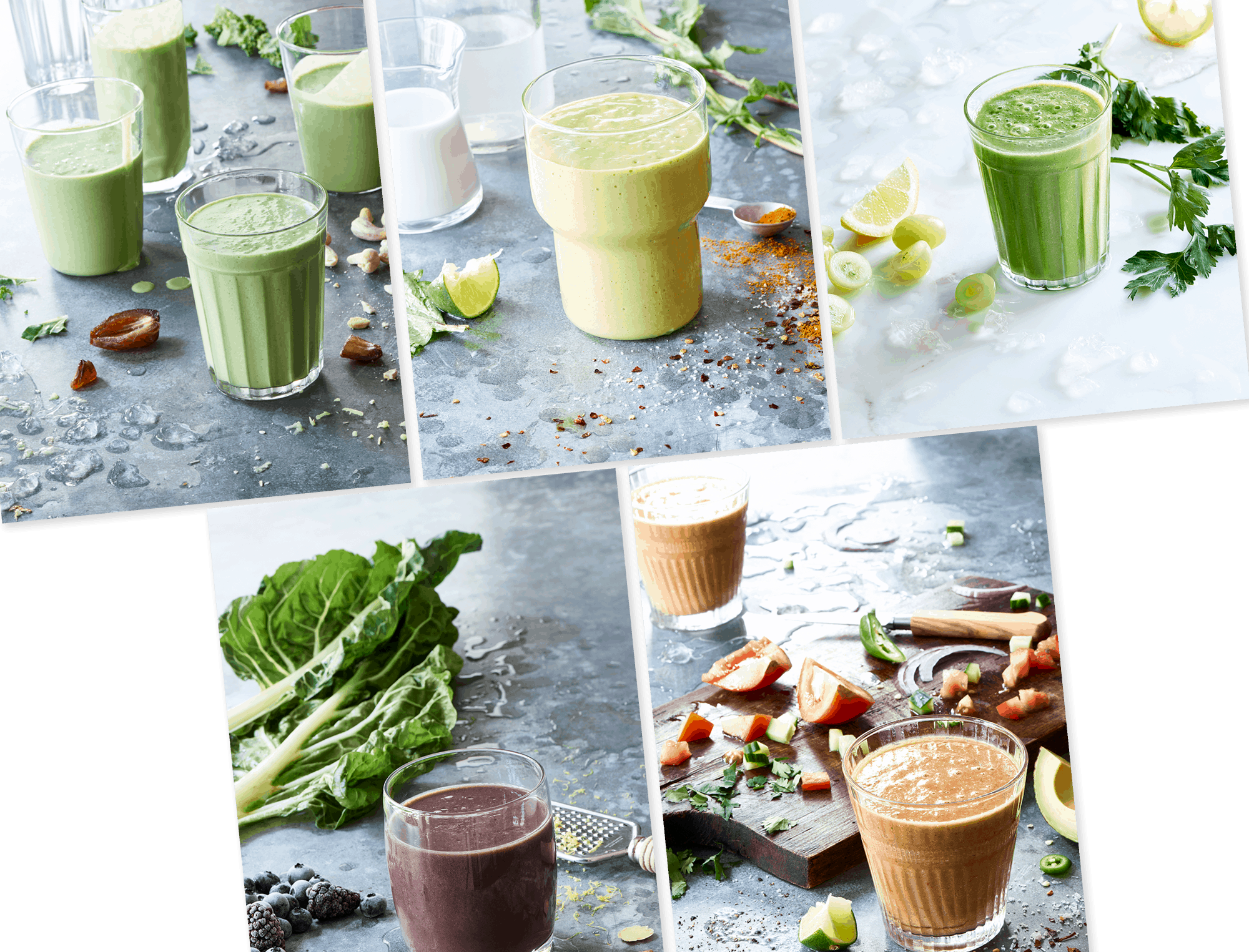 This guide will help you make the most amazing green smoothies that:

look gorgeous

are nutrient-dense for energy

and taste delicious
So dust off your blender, and get ready to find your perfect blend.